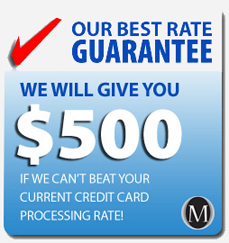 Merchant industry provides complete processing solutions and unbeatable Credit Card Processing rates in the industry. If we can't beat your current credit card processing rate, we assure that we will give you 500$. Our card rate is the best in the industry. Merchant Industry ensure that you did not pay more in processing fees while taking advantage of our Free Terminal Placement program. At Merchant Industry we don't hit you with a bunch of hidden fees like other providers, nor do we give you low teaser rates that expire and then raise your rates after you sign up. Our extensive industry experience helps you get the best possible rates according to your business needs. We find you better values on merchant accounts and credit card equipment.

The merchants do not always pay the same fees for processing credit cards. It depends on how you process transaction and the type of card you accept. So we analyze your current processing statements, and show you exactly how much you can save. We follow up on every lead to bring you the lowest possible price on credit card terminals and merchant account services.

The discount rate that a merchant pays is a transactions fee for using credit card processing. The discount fee is a percentage of each credit card transaction and normally varies between 1% and 3.5%. We understand the need to setup merchant accounts with rates and fees below these minimum fees.

Our rate and fee structure is the most competitive in the industry.